Description
Pals breast forms are made from a non-silicone soft gel polymer. They contain medical grade natural mineral oils and can be worn against the skin. In fact, the company claims that the forms will help moisturise your skin while you wear them. Also, since Pals forms are available with prominent nipples, some T Girls find them a good choice for intimate moments.
The "Triangles with Nipples" are quite lifelike, soft, and comfortable. Be aware that the smallest size Triangle is equivalent to a small A cup and the forms are at least as heavy as silicone. However, they can be trimmed to customise the fit without damaging the gel. Also, unlike silicone forms, they are puncture-proof.
To care for Pals forms, wash them with soap and water, dry with a paper towel, and then dust with powder (corn starch is recommended). If not dusted with powder, the forms can become tacky. Some T Girls prefer to wear their Pals without powder and only use the powder when storing the forms. Also, Pals should be stored in a plastic bag or other such protection.
Pals come with 1/4″ scoop in back.
TRL-01-04 pair weigh 2 lb .12 see image
HOW TO GET THE PERFECT BREAST FORM FOR YOU ?
1. Measure using tape measure – Take a firm measurement around the rib cage, directly underneath the breast. Pull the measuring tape tight and keep it level around your body, just under the bust
2. Add five inches if odd 4 inches if even number e.g 31-32 inches = size 36, 33-34 inches = size 38, 35-36 inches = size 40 37-38 inches= size 42, 39-40= 44, 41-42=46,
3 Measuring Cup Size – As we assume most T Girls and cross dressers don't have much breast tissue the best way to measure is to put socks or similar in a bra to get the desired cleavage you require then measure the amount of inches it protudes from the chest without the bra e.g if the difference is 1 inch you are a A cup
1 A
2 B
3 C
4 D
5 DD
NOTE If you don't have access to a bra just hold a tape measure outwards form your nipple and measure the amount of breast you desire eg if its 2 inches you want B cup, 3 inches C cup
Confidence
PALS stay put! has a natural gripping surface that resists slipping. Dance, Run, play Tennis. PALS are a faithful companion to an active lifestyle.
Safe
PALS are made with a revolutionary blend of Polymers and Medical Grade Mineral Oil. All FDA approved safe and non-toxic! Wear them directly against the skin with no danger of chemical irritation. The mineral oil helps to keep your skin soft and subtle.
Durable
With proper care, one pair will last for years and years. Silicone bags can be punctured rendering pads useless due to damage. PALS are soft, fleshy, non-liquid gel that is strong enough to be worn daily without damage.
Tint Them
If your skin tone doesn't match exactly and you want to wear clothing where a match is important. Don't worry! You can use facial foundation or body make-up to tint Pals to your own skin tone! Customers rave that the foundation absorbs into the enhancers and doesn't smear onto clothing. Given the uniqueness of fabric varietyies, we therefore suggest all caution still be considered. For example, testing on an inconspicuous area to ensure colorfastness.
Be Creative! why not pierce their Nipples
Nipples can be pierced with the latest nipple ring fashions for a great modern look.
PALS BREAST SIZE CHART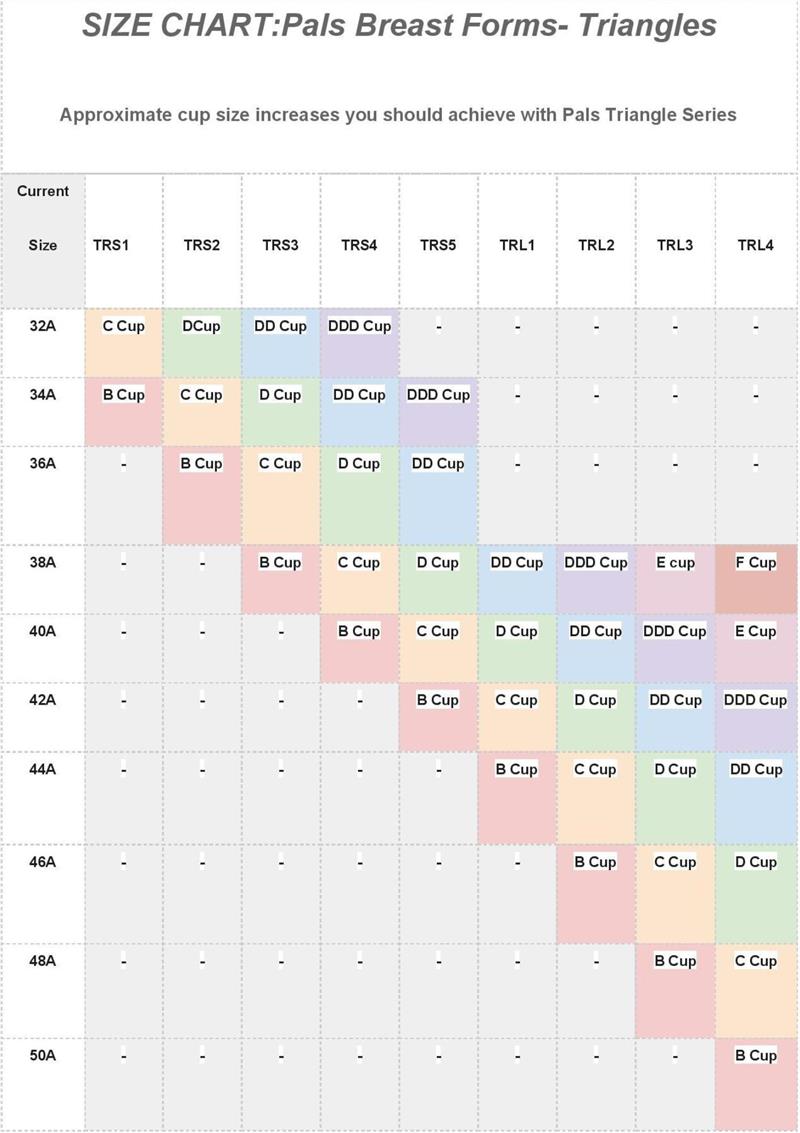 RELATED PRODUCTS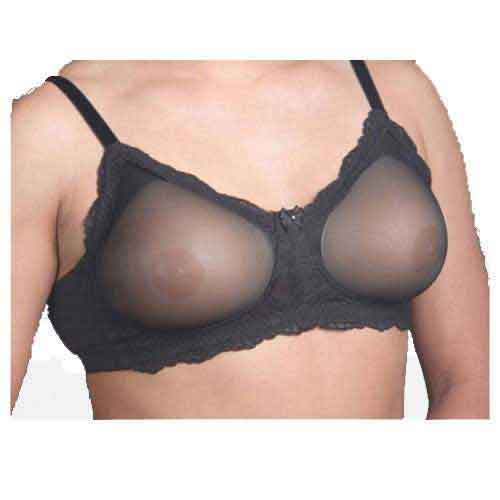 Additional information
| | |
| --- | --- |
| Weight | 0.07 kg |
| Size | TRS1 Xsmall, TRS2, TRS3 Meduim 36-38B/C, TRS4 Large 40-42B/C |